MoU on CACE-CII cooperation signed in New Delhi
2019-09-11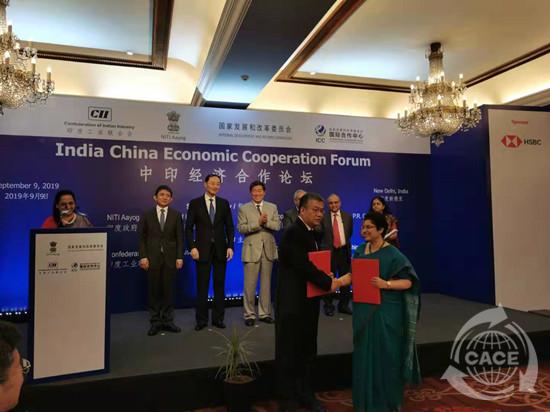 The Sixth China-India Strategic Economic Dialogue and the China-India Economic Cooperation Forum were held on Monday. He Lifeng, head of the National Development and Reform Commission (NDRC), and Rajiv Kumar, vice chairman of the National Institution for Transforming India (NITI Aayog), attended the dialogue.
During the dialogue,a memorandum of understanding (MoU) aiming to strengthen the cooperation between China Association of Circular Economy(CACE) and Confederation of Indian Industry(CII) in the circular economy field was signed. The MoU was signed by CACE's vice president Yuan Qingdan, and Seema Arora, deputy director general of CII Centre for Excellence for Sustainable Development.
Under the MoU, both sides have agreed to strengthen cooperation in areas including industrial circular economy, agricultural circular economy, resources recovery and recycling, green manufacturing and remanufacturing, etc., and make contributions to economic growth and sustainable development for China and India.
Founded in 1895, Confederation of Indian Industry (hereinafter referred to as CII) is a not-for-profit and industry managed organization. CII works to create and sustain an environment conducive to the development of India, partnering industry, government, and civil society, through advisory and consultative processes, playing a proactive role in India's development process. CII charts change by working closely with Government on policy issues, interfacing with thought leaders, and enhancing efficiency, competitiveness and business opportunities for industry through a range of specialized services and strategic global linkages. It also provides a platform for consensus-building and networking on key issues.