WWF (Norway) CEO Bård Vegar Solhjell Visits CACE
2019-04-30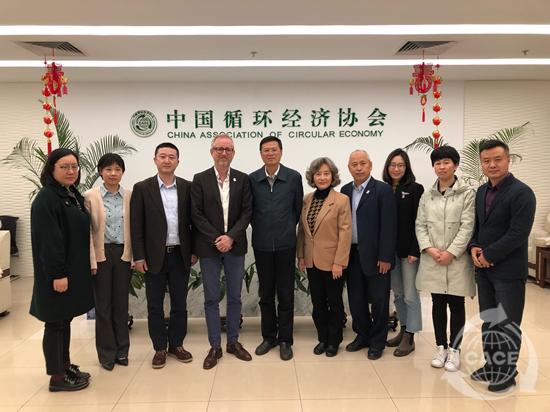 On April 28, 2019, Bård Vegar Solhjell, CEO of WWF (Norway), visited China Association of Circular Economy (CACE) with China program group. President Zhu Xingxiang, and vice president & secretary general Zhao Kai welcomed and received the visit.
Norway attaches great importance to resource conservation and environmental protection. It is one of the world's largest oil and gas exporting countries. However, it is also a country with high utilization of renewable energy. The proportion of renewable energy power generation is close to 100%, mainly from hydropower. Mr. Bård served as Norwegian minister of the Environment, minister of Education, Member of the Standing Committee on Foreign Affairs and Defence and the Standing Committee on Scrutiny and Constitutional affairs, co-chair of the negotiations on the 2nd commitment period for the Kyoto Protocol at the UNFCCC COP18 Doha Climate Conference and other key government positions. Mr. Bård introduced the circular economy development in Norway, especially waste management in the past 15 years. He said that the WWF(Norway) has made the WWF (China) an important global partner, and is also looking forward to cooperating with CACE.
President Zhu Xingxiang welcomed Mr. Bård and his team and affirmed Mr. Bård's outstanding contribution to the environment, education and climate change. He pointed out that CACE has carried out a lot of work and played an important role in the comprehensive utilization of industrial solid waste, recycling of electrical and electronic wastes, and utilization of hazardous wastes. CACE is willing to work closely with WWF to make full use of resource advantages and carry out project cooperation. In addition, President Zhu Xingxiang invited WWF to actively participate in the 2019 China International Circular Economy Exhibition and concurrent activities.
Both sides discussed the next step of cooperation in areas such as zero-waste cities, kitchen waste, idle clothing, and green hydropower. WWF said it will provide support from experts and funds, cooperate with CACE, and actively promote partnerships between governments, industry associations, international organizations and enterprises.
WWF(China) Beijing office senior advisor Zhang Huali, China market transformation project director Jin Zhonghao, project officer Zhong Yuqing, CACE international cooperation department director Ma Jinjin, conference and exhibition department director Shao Jin, deputy secretary general of special committee of comprehensive utilization of waste textile Gu Mingming, secretary general of special committee of urban waste Zhang Kai, international cooperation department assistant Li Xin'ge attended the meeting.