THE I:CO SYSTEM:Take-Back System
2018-12-05
About I:CO:
I:CO, short for I:Collect, is a leading global solutions provider for the collection, certified sorting, reuse and recycling of used clothing and shoes. Through the innovative in-store take-back system and partner network, I:CO offers fashion brands and retailers a sustainable product end-of-life solution. Since 2009, I:CO has organized the collection of these items all over the world, as well as a precise, certified sorting for either reuse or recycling that ensures maximum reutilization of these valuable materials. I:CO not only offer fashion companies a practical opportunity to take product responsibility and to act sustainably; the system also enables consumers to give their clothing a second life. It reduces waste, preserves resources, and protects the environment. Furthermore, I:CO offers the development of individualized circular supply chain projects to help fashion retailers use recycled fibers for their products.
THE I:CO SYSTEM:Take-Back System
The I:CO take-back system provides a resource-efficient and economical solution that is as simple as it is effective. I:CO helps to organize the collection of pre-loved clothing and shoes at the retailer's stores, as well as the logistics, sorting and further processing of the items in the various recycling loops. Whether in a department store, footwear shop, fashion discounter, sporting goods store, or shopping center, the I:CO take-back system helps enable partners to close the loop on textiles worldwide and achieve their corporate circularity vision.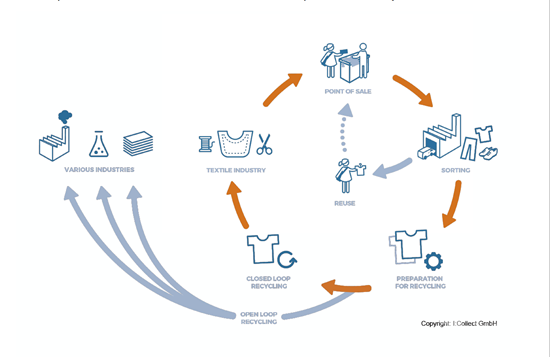 Collection: Consumers bring in their used clothing or shoes to the participating stores and are given a reward incentive (e.g. voucher for next purchase). Every garment of any brand in dry, clean condition is accepted. Collection bins can be individually designed according to I:CO partner's wishes. The scale of I:CO's worldwide take-back system and logistics network is unique in the textile industry. At present, I:CO collects clothing and shoes in more than 60 countries.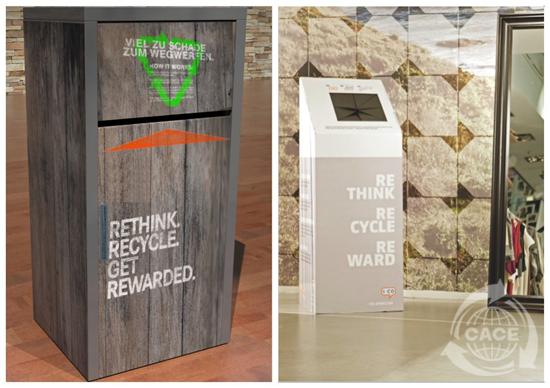 Sorting: The logistics are individually tailored and integrated into the existing infrastructure of the retail partner. All collected goods are transported to the nearest sorting facility within I:CO global network. I:CO work with selected certified sorting facilities and guarantee a precise, high-quality sorting and evaluation according to the international waste hierarchy: reuse before recycling. Every item of clothing and pair of shoes is sorted by hand and categorized according up to 420 different criteria (quality, material) based on its next best possible use. Still wearable items are therefore kept and sold as second-hand goods. Unwearable items are recycled and end up in the next best processing cycle to become - depending on the material and existing technologies -products for other industries.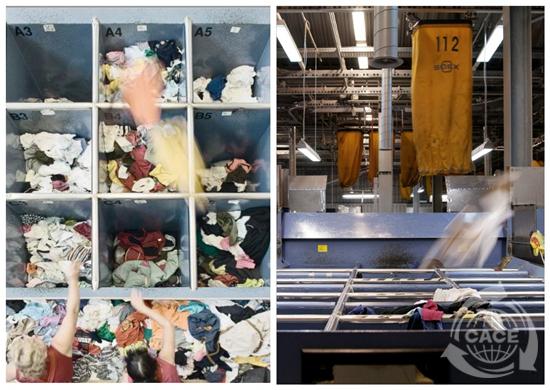 Circular Supply Chains
The fashion industry uses many resources and has a strong environmental impact due to its immense growth. Today's traditional linear supply chain based on the "take, make, dispose" business model is reaching its physical limits. The I:CO system supports the transition towards a more circular fashion industry that is able to reutilize resources. The process of closed loop recycling still poses challenges for the textile industry due to the complexity of mixed fibers and a lack of a scalable technology. I:CO is involved in international research projects with various partners to enable a system for fiber recycling. I:CO build the bridge between the sorters, recyclers, suppliers and retailers to design new circular supply chains.
I:CO has realized a complete closed loop for denim products with a high quality fiber-to-fiber recycling made from post-consumer waste (PCW). Together with a retail partner, I:CO established an individual process for cotton to be recycled and spun into yarn to produce new denim fabrics. By using existing mechanical technologies on cotton-made jeans and bringing together the different supply chain partners, I:CO was the first to map a complete closed loop supply chain. 1,000 tons of recycled PCW cotton were produced in 2016 and used for new denim clothing. These volumes are increasing continuously. A life-cycle assessment has shown the environmental impact: recycling reduced the environmental impact and water consumption by 70-80% for the stages up to when the fiber is ready for spinning.