CACE President Zhu Liyang visited CNCIC, the strategic partner of CACE
2023-02-14
In the afternoon of February 10, 2023, Zhu Liyang, President of CACE, led a delegation to visit China National Chemcial Information Center(CNCIC), a strategic partner of the Association, and had a discussion and exchange with Liu Tao, Secretary of the Party Committee and Director of CNCIC, and Gao Yan, Deputy Director of CNCIC.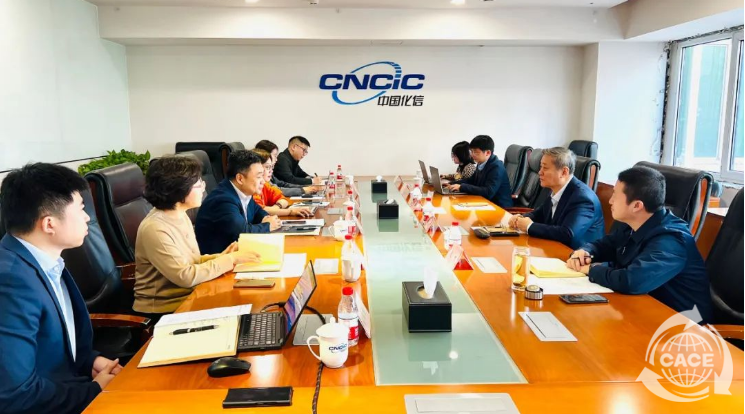 Director Liu Tao welcomed the visit of President Zhu Liyang and his delegation, and fully affirmed the cooperation between CNCIC and CACE since the signing of the strategic cooperation agreement. He expressed that in the future, the Center will give full play to its resource advantages in the field of petroleum and chemical industry, increase its efforts to further promote the cooperation between CNCIC and CACE in the field of circular economy, and express full support for the joint preparation of the Petroleum and Chemical Industry Special Committee of CACE.
President Zhu Liyang fully communicated and discussed with Director Liu Tao, Deputy Director Gao Yan and relevant comrades on the key contents of the cooperation between the two sides, such as the preparation of the special committee, the joint publication, and the cooperation in the forum and exhibition. Zhu Liyang pointed out that the proposal of carbon peaking and carbon neutrality goals has brought a major opportunity for the development of circular economy, and also pointed out a new direction and new requirements for the development of circular economy. CACE will seize this opportunity period, broaden development ideas, and carry out extensive cooperation with relevant industry organizations, integrate resources, complement each other's advantages, and play an active role in promoting the development of circular economy and related industries.
Zhao Kai, Executive Vice President of CACE, Wu Jun, General Manager of Media Center of CNCIC, Zhang Songchen, General Manager of CPCERI, Zhang Hua, Deputy General Manager, Shao Jin and other comrades participated in the discussion.