Counselor of the Embassy of Finland in China visited China Association of Circular Economy
2022-07-06
On July 5, 2022, Marko Tiesmäki, Commercial Counselor of the Embassy of Finland in China and Country Director of Business Finland China, visited China Association of Circular Economy (hereinafter referred to as "the Association"), and was received by ZHAO Kai, Executive Vice President of the Association, and MA Jinjin, Director of the International Cooperation Department.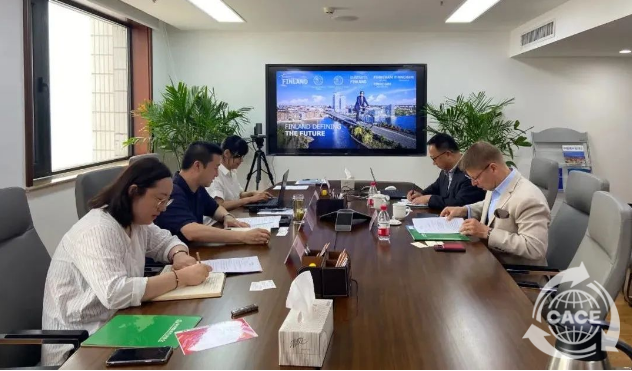 Executive Vice President ZHAO Kai firstly welcomed the visit of Marko Tiesmäki and his delegation, and then introduced the main work of the Association and its future work priorities. ZHAO Kai pointed out that the Association has strengthened cooperation with embassies, international organizations and institutions in China in recent years and achieved remarkable results. He suggested that on the basis of the existing cooperation with the Embassy of Finland and under the framework of the "MOU on China-EU Circular Economy Cooperation", the two sides should continuously improve the cooperation mechanism and innovate the cooperation mode to jointly promote the cooperation and development of circular economy between China and Finland industries and enterprises.
Counselor Marko Tiesmäki expressed his gratitude to the Association for the reception and introduced the work of the Commercial Office of the Embassy of Finland in China. He pointed out that the Commercial Office of the Embassy of Finland is currently focusing on circular economy and bio-economy. He believed that there is great potential for cooperation with the Association and hoped to work together with the Association to promote practical cooperation between China and Finland enterprises in the field of circular economy. Both sides agreed to choose plastic pollution prevention and recycling of waste textiles as the next breakthrough point, and to carry out future seminars, technology matching and mutual exchange visits to promote in-depth cooperation in circular economy-related policies, standards, technological innovation, investment and financing between China and Finland. ZHOU Yuan, senior commercial officer of the Commercial Office of the Embassy of Finland in China, and LI Xin'ge and JIN Minhuan, project assistant of the International Cooperation Department of the Association, attended the meeting together.