The Special Training on the Extended Producer Responsibility System was Successfully held in Hangzhou
2021-07-27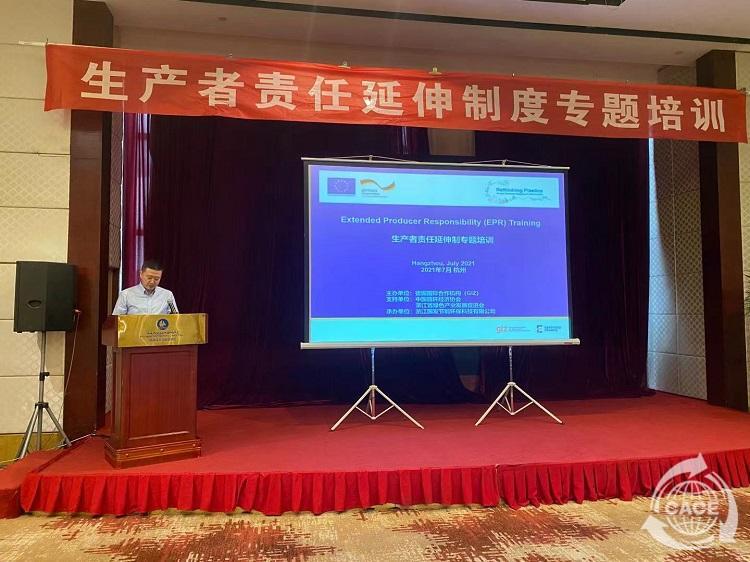 From July 21 to 23, 2021, the "Special Training on the Extended Producer Responsibility" sponsored by Deutsche Gesellschaft für Internationale Zusammenarbeit (GIZ), supported by China Association of Circular Economy and Zhejiang Provincial Greenpeace Industry Development Association, and undertaken by Zhejiang Guofa Energy-Saving Environmental Protection Technology Co.Ltd., was successfully held in Hangzhou. Nearly 50 representatives from government departments, industry associations, research institutions, international organizations and key enterprises participated in the training. The training session was hosted by Liu Xiao, Project Director of "Plastic Rethinking" project of GIZ.
European experience shows that Extended Producer Responsibility (EPR) system plays a huge role in achieving a series of circular economy policy goals, such as constructing the resource recovery and utilization system of upstream and downstream links based on EPR system, imrpoving ecological design, recycling system, and technological innovation of renewable utilization, etc. Learning from the advanced experience of foreign countries and continuously improving China's circular economy laws, regulations, and standards will help the EPR system to operate in China. At the training meeting, Ma Da, Deputy Division Director of the environment and Resources Department of Zhejiang Development and Reform Commission; Zhao Kai, Executive Vice president at China Association of Circular Economy; Qian Mingyu, Project Director of GIZ Waste Management and Circular Economy Team; Mao Tao, Director of Center for International Economic and Technological Cooperation, the Ministry of Industry and Information Technology; Ning Miao, Chief Engineer of Automotive Data of China Co., Ltd., and international authoritative experts and other leaders and guest representatives, centered on the "14th Five-Year" Circular Economy Development Plan, the construction and evaluation of the domestic green supply chain related policy standard system, Systematic domestic and foreign policy interpretations and case sharing were carried out on themes such as the pilot policy on EPR in key product areas and the packaging industry EPR toolbox. Apple and Ellen MacArthur Foundation respectively shared innovative and leading practices in green supply chain management, circular economy, and climate change.
During the three-day training activities, the trainees not only learned and exchanged domestic and foreign circular economy policy trends and EPR practical experience, but also gained a deeper understanding of key issues such as EPR system design and typical waste recycling system construction through interactive practices such as play an active role in an EPR system and field visits.